Freelance Site Trend
Worker and Recruiter, hangout here
Do you need job, or you need a freelancer for your job? Be smart, here is where recruiter and worker hangout. Don't waste your time to search everywhere, just visit and become member. Are you asking about legitimate? Millions of people already proved, it was legal and legit.
List of crowdsource sites :
1. Guru One of the biggest online marketplace for freelancers, provides all types of jobs that you can find on the internet. Promising ease in finding work and recruiters that require specific expertise. Payments secured by SavePay method they developed. The ease and low cost of recruitment is their promise.

2. oDesk An online marketplace on the rise and began to beat its competitors. One advantage of oDesk is the availability of free test facilities for freelancers who want to prove their skills. Not many sites online that provide this facility crowdsource. Any contract that is running can be monitored by oDesk Team.
3. ifreelance is a great way to hire freelancers, find work and get your goals accomplished, a motto of iFreelancer site. iFreelance is the premier place for independent professionals looking for freelance work. Whether you have experience in proofreading, art jobs or data entry, iFreelance is the hub where you can meet entrepreneurs and sell your freelancing skills.

4. Vworker acquisition and
merged to Freelancer dot com and finish their migrate at
November 21st, 2012.

5. Freelance one-stop shop platform for freelancers and employers in the need of working independently and reliable. With more than 100 thousands contractors, Freelancer site provide premium membership to gain more access and opportunities to get project.

6. Peopleperhour more than 300 thousands talented professional can easily found in this site. Their popular jobs are programming, translation, wordpress themes, voice over, data entry, etc. On the front page we will see a great infographic about this Peopleperhour site.

7. Elance

the talent cloud, is i

ncumbent in the online workplace, cementing their position as a destination for online job seekers and employers to mutually interaction. As can be seen in the table's
picture
above, they may claimed as the world's leading site for online work. See more job from Elance.

8. Project4hire "Need help on a project? Get professionals to bid to do your project and save both time and money! Or, Are you a contractor or freelance professional? Use your skills to earn money!" What a great place to meet your needs in the online workplace. Establish since 2006, no doubt about their experience and trustworthy.
9. Freelancer global rank position 417 in Alexa rank beat oDesk (rank 522) and Elance (rank 615) with almost 6.7 millions professionals and 4 millions projects
what else do you expect other than rushing to become a member?

10. Clickworker "your virtual workforce" owned by a Deutsch company Humangrid GmbH, establish since 2005. Provide gratis test and project assessments, fill and finish then you will be immediately paid. It is suitable for those who master multiple languages​​, of course with a certificate of proof. There are also different kinds of jobs that even more than the freelance members registered.
11. GoFreelance fi
re your boss and start living your dream life. We have all the freelance jobs you need to start making good money from the comfort of your own home - doing work that is, fun, enjoyable and very profitable. Join now and discover how great life can be as a freelance professional (source gofreelance . com).
12. Limeexchange this site belong to Freelance . com.
13. Asiawriters is online workplace for writer only, their members are ranging from student, teacher, professor, retire people, worldwide.
14. FreelanceWell or can be say it's freelance info site. If you have a project that will be offered, this site can help you estimate the cost to be paid.
15. DoNanza "the easiest way for freelancers to find new clients". If you need job board for your blog, they provided a widget.
16. FreelancerCareers, are you a writer? Try this place.
17. EssayWriters a place, where writers earn good money. I'm not really sure about this, but why don't we try it first.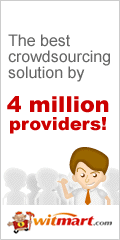 18. Witmart operate by ZBJ Network,Inc. with zbj dot com in China is an online service market with more than 7 millions users around the globe. They claim as the best crowd sourcing solution, safe proof with VeriSign, TRUSTe and money back guaranteed logos. Witmart also have a program like contest where the winner awarded the jobs.
ZBJ Network, Inc. is a US based company with offices located in Houston, USA; Toronto, Canada and Chongqing, China.
Sites above not enough? Want a cute and simple but can make money?
See other post
Simple, Funny and Still Earn Money
comments powered by

Disqus
Serba Aneka Informasi
Try to provide trusty and valuable information to audiences. But I knew it still need to improve, any suggestion will accept open hand, don't hesitate to give suggestion.
M. Abdul Khaliq